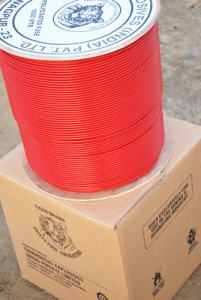 █ DESCRIPTION
A safety fuse consists of a gunpowder core in a tube formed by jute yarn, which is covered with layers of bitumen (asphaltum), and has an outer wrapper of tough yarn or polymer. It is made in a standard diameter designed to be crimped into blasting caps (Detonators). Safety fuse is manufactured with a specified burn time per meter, e.g. 115 seconds, which means that a length of fuse 100 cm long will take around 115 seconds to burn.
CDET Explosive Industries provides polycoated safety fuse manufactured by its sister concern Commercial Explosives (India) for the purpose of exports only.
█ SHIPPING INFORMATION
| | |
| --- | --- |
| UN No. | 0105 |
| Class | 1.4S |
| Proper Shipping Name | FUSE, SAFETY for blasting |
| IMDG EMS Fire | F-B |
| IMDG EMS Spill | S-X |
Marine Transport
Classified as Dangerous Goods by the criteria of the International Maritime Dangerous Goods Code (IMDG Code) for transport by sea; DANGEROUS GOODS.
Air Transport
TRANSPORT PROHIBITED under the International Air Transport Association (IATA) Dangerous Goods Regulations for transport by air in passenger aircraft and cargo aircraft