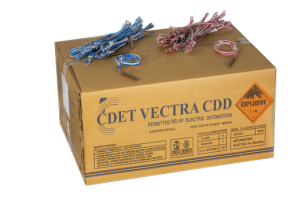 █ DESCRIPTION
Permitted Electric detonators are made specially for use in underground gassy coal mines, they have low incendivity so as not to ignite the dangerous methane gas / coal dust atmosphere. The detonator consists of a nichrome bridge fusehead & a primary and base explosive charge inside a cylindrical copper or copper coated steel shell. A pair of PVC coated leg-wires are soldered to the fusehead and crimped into the detonator shell with a PVC closure plug.
The permitted delay detonators contain an additional pyrotechnic delay element which is inserted between the explosive charge and the fusehead. The addition of the delay element allows the blaster to provide a time delay between multiple blasts by using a series of delay numbers.
The products are authorized by the Petroleum & Explosives Safety Organization (PESO), India. They have been tested and approved by the office of the Director General of Mines Safety (DGMS), India and the Central Mining Research Institute (CMRI), India as safe for use in underground gassy coal mines.
█ PRODUCT RANGE & APPLICATION
CDET ELECTRA-G / CDET ELECTRA-P (Instantaneous)
Permitted Instantaneous Electric Detonators are used for simultaneous initiation of multiple explosive charges in blast holes in a controlled manner.
CDET VECTRA CDD / CDET VECTRA PDD (Delay)
Permitted electric delay detonators are available in numbers 0 to 6 with a nominal interval of 25ms. The delay timing ensures hole by hole sequencing to achieve desired fragmentation with low levels of vibration and noise. The detonators are designed for precision and accuracy with no delay overlap.
█ SHIPPING INFORMATION
| | |
| --- | --- |
| UN No. | 0030 |
| Class (Primary) | 1.1 B Explosive |
| Proper Shipping Name | DETONATORS, ELECTRIC |
| IMDG EMS Fire | F-B |
| IMDG EMS Spill | S-X |
Marine Transport
Classified as Dangerous Goods by the criteria of the International Maritime Dangerous Goods Code (IMDG Code) for transport by sea; DANGEROUS GOODS.
Air Transport
TRANSPORT PROHIBITED under the International Air Transport Association (IATA) Dangerous Goods Regulations for transport by air in passenger aircraft and cargo aircraft