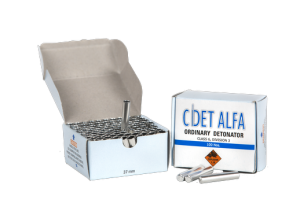 █ DESCRIPTION
Ordinary / plain detonator comprises of an aluminium shell filled with an explosive charge. It is initiated by safety fuse which is inserted in the open end of the ordinary detonator & held there by crimping it. The fire conveyed by safety fuse initiates the explosive charge inside the shell.
█ APPLICATION
Ordinary detonators are inexpensive blasting initiators, popularly used in opencast / non-gassy mines stone quarries, well sinking, road construction, surface excavation, secondary blasting and shock tube blast initiation. They are widely used as a safe alternative in locations which have potential static hazards for electric detonators.
█ TECHNICAL INFORMATION
Plan Detonators are available in 2 variations, CDET Alfa & CDET Alfa-S
█ SHIPPING INFORMATION
| | |
| --- | --- |
| UN No. | 0029 |
| Class (Primary) | 1.1 B Explosive |
| Proper Shipping Name | DETONATORS, NON-ELECTRIC |
| IMDG EMS Fire | F-B |
| IMDG EMS Spill | S-X |
Marine Transport
Classified as Dangerous Goods by the criteria of the International Maritime Dangerous Goods Code (IMDG Code) for transport by sea; DANGEROUS GOODS.
Air Transport
TRANSPORT PROHIBITED under the International Air Transport Association (IATA) Dangerous Goods Regulations for transport by air in passenger aircraft and cargo aircraft