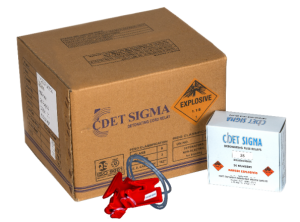 █ DESCRIPTION
For users of detonating cord, CDET offers cord relays and surface MS connectors. Using these accessories, a pre-defined time delay can be provided when using detonating cords for initiation of explosives.
█ PRODUCT RANGE & APPLICATION
CDET SIGMA is a relay action device which provides a time delay within the line of detonating cord firing. The assembly consists of a plastic component housing two identical delay detonators to provide a bi-directional firing capability. CDET SIGMA is recommended for use with 10+ gm detonating cord only.
CDET OPTRA (SHOCKTUBE MS CONNECTOR)
OMEGA OPTRA is used to provide surface delay time between individual and multiple boreholes in which detonating cord is used as the primary initiation system. The assembly is a bi-directional unit that consists of a length of shock tube crimped at both ends with a similarly timed detonator which is housed inside a colour-coded plastic connector. The plastic connector is designed so that it easily affixes to detonating cord of any grammage.
█ SHIPPING INFORMATION
| | |
| --- | --- |
| UN No. | 0030 |
| Class (Primary) | 1.1 B Explosive |
| Proper Shipping Name | DETONATORS, ELECTRIC |
| Hazchem Code | E |
| IMDG EMS Fire | F-B |
| IMDG EMS Spill | S-X |
Marine Transport
Classified as Dangerous Goods by the criteria of the International Maritime Dangerous Goods Code (IMDG Code) for transport by sea; DANGEROUS GOODS.
Air Transport
TRANSPORT PROHIBITED under the International Air Transport Association (IATA) Dangerous Goods Regulations for transport by air in passenger aircraft and cargo aircraft